Leadership Development
Using highly validated assessment tools, core leadership team values are identified and used as the basis from which all work is done. We have a long history of building strong, aligned leadership teams by beginning with this process and working to ensure that leadership decisions are congruent with core values. Also includes:

One-on-One Executive Coaching

Strategic Planning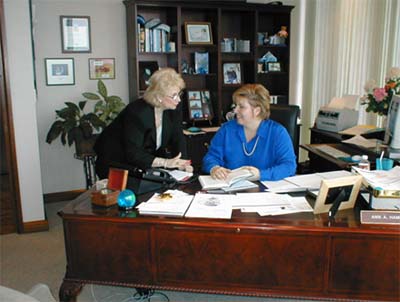 Bette works with Ann Hambly, Founder and CEO of First Service Solutions.
Team Development -- With a special emphasis on GenBlending™ Teams; a unique process of blending generational thinking to maximize business growth and profitability.

Walt Disney said, "When you blend the new with the old, you get new again." That is exactly the benefit of forming GenBlending Teams. Ask us about this unique concept and find out how it can accelerate your ability to utilize the talents of a bright, new generation while honoring tried and true methods and experience. You'll be amazed at the outcomes.



Talent Selection. A large percentage of today's organizations have done little to ensure future leadership. That's a dangerous position in which to be. Today's selection of talent capable of filling important management and leadership roles requires more than traditional hiring and promoting methods. Understanding the potential of candidates goes far beyond education, experience and skills. It requires knowledge of growth capacity and primary motivators that engage the employee to perform with innovation and results. We have the ability to identify these important characteristics.

Our unique insights into this new generation of talent, combined with our access to a selection system that has demonstrated a 92% retention factor with management level positions, gives you an edge on your competition when it comes to hiring and promoting for your future leadership positions.



Executive Coaching. It's lonely at the top. Most growth-oriented executives recognize that continual growth only comes through objective feedback and coaching from a confidential source. We provide clarity, focus and meaningful challenge to help you to take positive actions toward enhancing your personal and professional growth.



Business Development. By asking the right questions, an outside professional often reveals areas of advancement that may be too close for those to recognize who operate the day-to-day activities of the organization. We facilitate a thorough analysis process and also facilitate meaningful planning sessions that surface ways in which to grow and enhance your business as well as potential new ways to expand your market reach. Sometimes it's as simple as changing the copy on your website to be more marketing focused. Fresh eyes bring forth fresh insights.

Book Writing. Have you ever wanted to write your own book but you don't have the time….or you don't know how? Lean More >